Aircraft Maintenance
The Air Wisconsin Maintenance team prides itself on achieving the highest standards of excellence in aircraft maintenance workmanship with an emphasis on safety and regulatory compliance. The team is a recipient of the Federal Aviation Administration's (FAA) Certificate of Excellence Diamond award, which demonstrates our desire to provide our employees with the knowledge and skills required for a successful and rewarding career. Our passion is safety, and eliminating risks within the maintenance environment is priority number one.
Our maintenance facilities operate 24 hours a day, seven days a week, to perform scheduled and unscheduled maintenance on our fleet of Canadair Regional Jets. This includes preventative maintenance, line maintenance, and scheduled inspections up to and including 'A-Checks'. Engine changes, sheet metal and composite repairs are all accomplished in-house by our maintenance professionals in accordance with Federal Aviation Regulations and company policies and procedures.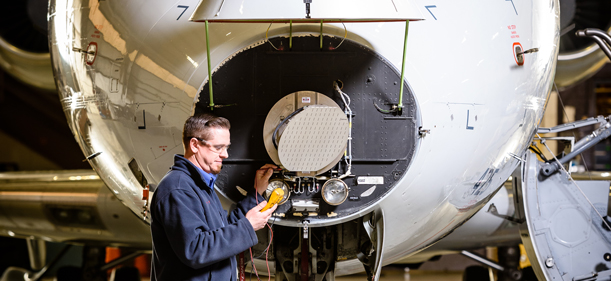 If your desire is to contribute your mechanical skills to the success of a superior maintenance team instead of being "just a number" among a thousand mechanics, Air Wisconsin is where you will find career satisfaction.
Maintenance Facilities
Columbia, SC (CAE)
Milwaukee, WI (MKE)
Norfolk, VA (ORF)
Philadelphia, PA (PHL)
A&P Mechanic
Tech Supply Clerks
Cleaners
Air Wisconsin Mechanics and Avionics Technicians are encouraged to use all of their knowledge and skills learned during training or prior experience to troubleshoot, inspect, test, replace, dismantle, alter, fabricate and repair the airframe components, engines and the various pneumatic, hydraulic and electrical systems installed on the CRJ fleet. A variety of tools and equipment are used, including precision measuring equipment, pneumatic devices, electrical testing devices, general shop equipment, ground support equipment and computers.
Duties and Responsibilities
Perform maintenance on CRJ 200 series and other equipment.
Perform all assigned work in accordance with manufacturer's aircraft maintenance manuals, Air Wisconsin General Maintenance Manual and FAA Regulations.
Must be able to effectively troubleshoot and repair all aircraft systems.
Comply with all safety rules and regulations.
Must be able to perform all line maintenance functions unsupervised, at any time.
Responsible for completion of aircraft maintenance documentation as required.
Training
New Mechanics and Avionics Technicians are required to attend three weeks of training. The initial training is an introduction to Air Wisconsin Airlines Maintenance, which includes a focus on safety and compliance followed by two weeks of CRJ General Familiarization training. Members of the Maintenance team will be provided additional training opportunities throughout their careers. All company training is paid training.
Compensation
Wages for A&P Mechanics and Avionics Technicians are set by the collective bargaining agreement between Air Wisconsin Airlines and the International Association of Machinists and Aerospace Workers (IAMAW).
Starting salary: $18.15/hour (includes license premiums) for all locations
Additional shift premiums, longevity and overtime may also apply
Requirements
Must have FAA Airframe and Powerplant License
Must have valid driver's license
CRJ experience preferred
Experience entering and accessing technical data within computer systems
High school diploma or equivalent
Legal right to work in the United States
Ability to work nights, shifts, weekends, and holidays
Ability to lift 75 pounds, climb, bend, kneel, crawl, sit, stand and stoop frequently in confined spaces
Good communication skills – Must be proficient in speaking and reading the English language
Problem-solving and organizational skills are required
Excellent judgment in working with people in a team environment
In addition to the above requirements, Avionics Technician applicants must possess at least one of the following:
FCC General Radio Telephone Operator's License (GROL)
NCATT AET- National Center for Aircraft Technician Training Aircraft Electronics
Proof of graduation from an accredited avionics curriculum or military program
Technical Stores/Supply team members are an important asset within Maintenance at Air Wisconsin. Tech Stores Clerks are responsible for receiving, shipping, storing, distributing and monitoring aircraft parts, materials, supplies and tools/equipment used by Maintenance employees to maintain our 71 Bombardier CRJ aircraft.
Duties and Responsibilities
Locate and retrieve aircraft parts, tooling and supplies for the Maintenance Department.
Perform accurate and timely computer transactions, including parts issues, stock returns, and station and bin transfers.
Deliver parts and/or company materials to designated locations.
Receive inventory and perform associated computer transactions.
Perform shipping functions, including Dangerous Goods.
Maintain a clean and organized stock room in compliance with the General Maintenance Manual and federal regulations.
Training
To ensure success, all Tech Stores Clerks are required to attend Initial Maintenance Training during the first week of employment, followed by job-specific training. All training is paid.
Compensation
Wages for Tech Stores Clerks are set by the collective bargaining agreement between Air Wisconsin Airlines and the International Association of Machinists and Aerospace Workers (IAMAW).
Starting wage for Tech Stores Clerks in Philadelphia, PA is $9.75/hour
Starting wage for Tech Stores Clerks in Norfolk, VA, Columbia, SC, and Milwaukee, WI, is $9.00/hour
Requirements
Minimum 18 years of age
Ability to work any of 3 shifts, weekends, and holidays
Basic computer/data entry skills
Ability to lift 50-75 pounds, sit, stand, etc.
Speak, read, and write in the English language
Previous customer service, warehousing/inventory, or airline industry experience is beneficial
Aircraft Cleaners are an integral part of the maintenance organization. They are responsible for cleaning and grooming the interior and exterior of aircraft, providing our passengers with an unparalleled customer experience. Aircraft cleaners may also be tasked with cleaning aircraft components and physical plant facilities, including general janitorial duties.
Duties and Responsibilities
Deep cleaning of aircraft (sanitizing, vacuuming, washing) interiors, including flight deck, galley, passenger compartment and lavatories.
Restocking required passenger and flight crew supplies such as inflight magazines, lavatory supplies and flight attendant supplies.
Dry wash and polish aircraft exterior.
Hangar facility organization and cleanliness.
Compensation
Wages for Cleaners are set by the collective bargaining agreement between Air Wisconsin Airlines and the International Association of Machinists and Aerospace Workers (IAMAW).
Starting salary: $10.54/hour for all locations.
Additional shift premiums and overtime may also apply.
Requirements
Minimum 18 years of age
Valid driver's license
High school diploma or equivalent
Ability to work all shifts, including nights, weekends and holidays
Speak, read and write in the English language
Experience in the cleaning of aircrafts and/or industrial facilities