Flight Attendants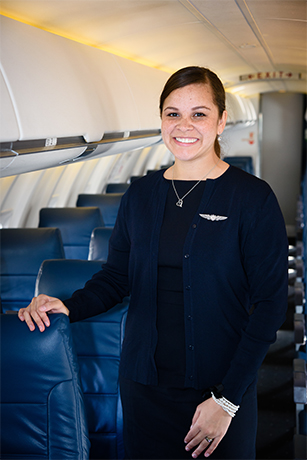 Air Wisconsin's flight attendants are key players in our United Express flying operation. As dedicated professionals, their priority is the well-being of passengers, ensuring that each travel experience is safe, comfortable and secure. Additionally, our flight attendants pride themselves on offering top-notch customer service, providing a positive inflight environment.
As the sole flight attendant on each aircraft, you are the face of Air Wisconsin!
A personal greeting and smile, a kind, courteous and respectful attitude, and a warm and genuine, "Welcome aboard!" are the hallmarks of our cabin crews. Our inflight service includes a variety of complimentary soft drinks and juices, as well as a selection of beverages and snacks that are available for purchase.
The dynamic nature of the airline industry offers an exciting future. Let Air Wisconsin take you to places you've never been!
Highlights of the Air Wisconsin Pay and Benefits
Starting pay for Flight Attendants is $17.86 per block hour, and after six months $18.86. After one year of service, the Flight Attendant pay is $20.54 per block hour
Duty and Trip Rig; monthly guarantee
Per diem is at $1.50 for the first 7 months and after 7 months $1.55 for each trip hour
Guaranteed 11 days off each month (reserve and line holders)
Up to 30 paid vacation days per year
Reimbursement allowances after the first year of service for uniforms and passports
Holiday pay when working New Year's Day, Thanksgiving Day, Christmas Eve and Christmas Day
Flight Attendant Requirements
Minimum of 19 years of age
High school diploma or equivalent
Valid civilian passport and the authorization to travel to and from all cities and countries served by Air Wisconsin
1-2 years of customer service experience
Able to successfully complete
federally mandated 10-year background check,
FBI fingerprinting requirements and
pre-employment drug screen
Legal authorization to work in the United States
Be adaptable and have the ability to perform effectively under stress
Not exceed a maximum height of 5'10" (without shoes)
Ability to reach a minimum of 68" above the ground
Able to stand, stoop, bend, squat, twist, turn and be able to push, pull and lift up to 45 lbs.
Able to read, write, understand and converse proficiently in English, the common language used among Flight, Maintenance and Cabin crews
Flexibility to work varied schedules, including days, nights, weekends and holidays